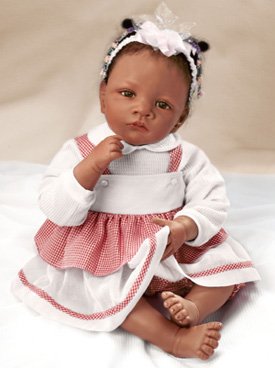 She has all the amazing lifelike features for which our exclusive So Truly Real dolls are becoming so famous. She has soft, lifelike RealTouch vinyl skin (exclusively our, patent pending), wispy, hand-applied hair and carefully manicured little fingernails and toenails. Jasmine's First Birthday comes dressed in a red and white party outfit with strands of colorful beads attached to her adorable pigtails....and even a little diaper. By world renowned artist Waltraud Hanl.

Size: 22" L
"Jasmine's 1st Birthday"
Retail Price $149.99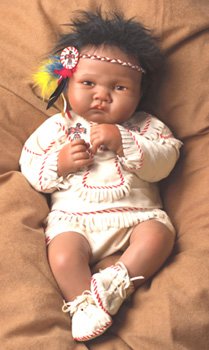 The first So Truly Real™ Native-American style doll. "Baby Raven Wing" is amazingly lifelike, from her RealTouch™ vinyl skin to her hand-applied hair, alert brown eyes and delicate eyelashes. "Baby Raven Wing" wears a faux suede outfit featuring the symbol of the "raven," her spirit guide, with matching baby moccasins. By Sandi Faber.
Size: 22" L
"Raven Wing"
Retail Price $149.99
Introducing "Faith" by Bonnie Chyle
"Faith" is the first doll in a series of
Breast Cancer Awareness Dolls. Blue eyes and Blonde rooted hair, RealTouch vinyl

Size: 26" L
"Faith"
Retail Price $159.99